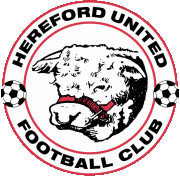 HEREFORD UNITED FC
Founded: 1924
Dissolved: 2014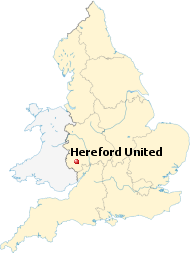 CLICK ON THE MAP TO
VIEW ENLARGED MAP
HEREFORD UNITED F.C. (Football Club)
Included Info: Brief History, Club/Stadium Info, Team Jersey & Much More...



BRIEF HISTORY of the HEREFORD UNITED FOOTBALL CLUB (reproduced from 'Wikipedia' pages)



Hereford United Football Club was an English association football club based in the city of Hereford that last played in the Southern League Premier Division, the seventh tier of English football. Founded in 1924, the club was elected to the Football League in 1972, and spent 31 seasons in the League in two spells, 25 of them in the fourth tier. The club reached the old Second Division in 1976, its best league performance, but was relegated after only one season at that level. Hereford achieved national prominence in 1972 when, as a Southern League club, they knocked top-flight Newcastle United out of the FA Cup.

Hereford played at Edgar Street for their entire history. They were nicknamed 'The Whites' or 'The Lilywhites', after their predominantly white kit, or 'The Bulls' after the Hereford cattle breed. The club's motto was "Our greatest glory lies not in never having fallen, but in rising when we fall". The club was affiliated to the Herefordshire County FA. On 19 December 2014, the club was wound up in the High Court after a petition had been brought against it by HM Revenue and Customs. Following the demise of United, a new 'phoenix club' was being set up, Hereford F.C.. The new club incorporates the words 'Forever United' into its crest design, as well as the iconic Hereford Bull.




CLUB FACTS & INFORMATION



Official Name

--

Hereford United F.C.
Club Nickname

--

The Bulls
Year Founded

--

1924 (91 years ago)
Year Dissolved

--

2014
English County

--

Herefordshire
Current Ground

--

Edgar Street
Ground Location

--

Hereford, England
Club's Owner

--

Andy Lonsdale
Club Chairman

--

Andy Lonsdale
Last Manager

--

Graham Turner
2013-14 Season

--

Conference Premier, 20th place
(relegated)
Last Season
(2014-15)

--

Southern Football League Premier Division
Did Not Finish Season (Record Expunged)





HOME COLORS

White & Black


AWAY COLORS

Black & Red

2012-14 HOME JERSEY KIT






INTERESTING STADIUM FACTS & INFORMATION


EDGAR STREET ATHLETIC GROUND
Edgar Street, Hereford, Herefordshire, HR4-9JR, England



OPENED: .......... * 1924 (see below)
SURFACE: ........ Grass
CAPACITY: ...... 5,300 (1,761 Seated)
RECORD: ......... 18,114 (1958 vs Sheffield Wednesday)
FIELD SIZE: ..... 114 x 76 yards (104 x 69 meters)

* Hereford United moved into Edgar Street when the Club was formed in 1924. However the ground was already being used prior to Hereford's formation.






Click On Aerial Photo To View/Download Enlarged Image




CLICK Any Years To Review League Standings

THE ENGLISH FOOTBALL LEAGUE (Divisions 2-4)
[Plus the Top Division of the Football Conference]



** NOTE ** The 1940-41 thru 1945-46 League Seasons cancelled due to World War II, while clubs only completed three matches each before the 1939-40 Season was cancelled.

** NOTE ** The 1915-16 thru 1918-19 League Seasons cancelled due to World War I.


Click Here To View The ...





HEREFORD UNITED STADIUM WALLPAPERS
(Click Any Boxes Below For Free Download)



Wallpaper Size below is 800x600: To Download Bigger Sizes, Click On Any Button Shown Above