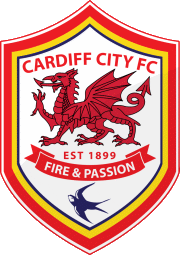 CARDIFF CITY F.C.
Founded: 1899
Also Known As:
RIVERSIDE AFC (1899-1907)
CARDIFF CITY (1908-)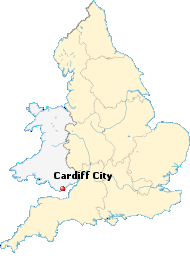 CLICK ON THE MAP TO
VIEW ENLARGED MAP
CARDIFF CITY F.C. (Football Club)
Included Info: Brief History, Club/Stadium Info, Team Jersey & Much More...



BRIEF HISTORY of CARDIFF CITY FOOTBALL CLUB (reproduced from 'Wikipedia' pages)



Cardiff City was formed in 1899 by Bristol born Bartley Wilson as a way of keeping players from the Riverside Cricket Club together and in shape during the winter months. In 1902, Riverside A.F.C. merged with Riverside Albion, but it took another three years till they won their first trophy, the Bevan Shield. In 1905 Cardiff was granted city status by King Edward VII, and as a result the club put in a request to change their name to Cardiff City, but the request was turned down as they were deemed to be not playing at a high enough level. To combat this they arranged to join the South Wales Amateur League in 1907 and the following year they were granted permission to change the name of the club to Cardiff City. Over the next two years Cardiff welcomed many of Britain's top sides to Cardiff, including Middlesbrough, Bristol City and Crystal Palace, with the matches being played at various grounds in Cardiff and nearby towns. The club would eventually move into their new ground, Ninian Park, in 1910. With the new ground in place, Cardiff joined the Southern League Second Division. They stayed in the division for the next decade, apart from when the league was suspended due to the outbreak of World War I. The club's most successful period so far was the 1920s in which they finished runners-up to Huddersfield Town in 1924 in the old Football League First Division on Goal Average, followed by two FA Cup Finals in 1925 against Sheffield United and 1927 against Arsenal. The Final against Arsenal saw Cardiff become the only team to have taken the FA Cup out of England with a 1–0 victory over Arsenal. The final was also notable as it was the first to be broadcast to the nation by BBC Radio. Cardiff City and Swansea City are the only Welsh football clubs to have played at the highest level of English football.

In the 1928–29 season, Cardiff City were relegated from the First Division of the Football League, despite conceding the fewest goals of all teams in the division that year. However, this was only a sign of things to come for the Bluebirds, and after two seasons in the Second Division, they were once again relegated in 1931 into Division 3 South having played 42 league matches, and only managing to win 8. During this time in the lowest division of recognised league football; Cardiff City were once again able to show some promise, and in fact they recorded their biggest ever win in the Football League, when they destroyed Thames by a scoreline of 9–2. Results however continued to be below what was expected by the City faithful, and therefore in May 1933, Fred Stewart resigned after 22 years in charge of the club. They crowned as champions of Division 3 South and returned to Second Division in 1946–47 season. Finally they finished second level as runner-ups and returned to top level after 23 years in 1951–52 season. During the 1960s Cardiff began qualifying for European competition for the first time through the Welsh Cup. Their first ever match in European competition was in the European Cup Winners Cup during the 1964–65 season against Danish side Esbjerg fB, winning 1–0 on aggregate over the two legs, the only goal being scored by Peter King. They went on to reach the quarter-finals before being knocked out by Real Zaragoza. Between 1985 and 1993, Cardiff were continuously in the lower two divisions of the league after being relegated to the Third Division. They were relegated to the Fourth Division once in 1985–86 season and were promoted to the Third Division in 1987–88 as runner-ups. Two years later they dropped into the Fourth Division for the second time. Cardiff won the new Division Three championship in 1993 but were relegated two years later, and in 1996 finished in their lowest-ever league position – 22nd of 24 in Division Three, with only Scarborough and Torquay United below them. They did better the following season, finishing seventh, but suffered a setback and slipped into the bottom half of the table in 1998. They finished third in Division Three in 1999 and won automatic promotion to Division Two.

The Bluebirds established themselves in Division One during 2003–04 season, finishing in 13th position. They struggled to a 16th position finish at the end of the 2004–05 campaign and ended the 2005–06 season with an 11th position finish. Cardiff changed their home colours to red and black as well as their badge from the 2012–13 season, in exchange for an investment plan from the Malaysian owners including a new training facility, stadium expansion and a transfer budget. They went on to have their best start to a league campaign ever, whilst also breaking the club record of 9 consecutive home wins, when they won their tenth home game against former manager Dave Jones' Sheffield Wednesday side. Cardiff topped the Championship with a 10-point cushion after 28 games of the season. On 1 March 2013, Datuk Chan Tien Ghee resigned his position as chairman to pursue other business opportunities. The club won the 2012–13 nPower Championship title and with it gained promotion to the Premier League for the first time. On 18 August 2013, Cardiff played their first ever Premier League game away to West Ham United, losing 2–0. On 25 August 2013, Cardiff played their first home Premier League game against Manchester City, winning 3–2 with goals from Aron Gunnarsson and Fraizer Campbell. On 27 December 2013 Malky Mackay was sacked by Vincent Tan following showdown talks, to be replaced on 2 January 2014 by Ole Gunnar Solskjær.[30] Cardiff were officially relegated from the Premier League on 3 May after suffering a 3–0 defeat away to Newcastle United. They finished the season in last place with 30 points from 38 matches.




CLUB FACTS & INFORMATION



| | | |
| --- | --- | --- |
| Official Name | -- | Cardiff City F.C. |
| Club Nickname | -- | The Bluebirds |
| Year Founded | -- | 1899 (117 years ago) |
| Welsh County | -- | Cardiff (city) |
| Current Ground | -- | Cardiff City Stadium |
| Ground Location | -- | Cardiff, Wales |
| Club's Owner | -- | Vincent Tan |
| Club Chairman | -- | Mehmet Dalman |
| Current Manager | -- | Paul Trollope |
| Current League | -- | Championship |
| Last Season | -- | Championship, 8th place |





HOME COLORS

Blue & Dark Blue

AWAY COLORS

All Red

INTERESTING STADIUM FACTS & INFORMATION


CARDIFF CITY STADIUM
Leckwith Road, Cardiff, CF11-8AZ, Wales



OPENED: ......... July 22, 2009
SURFACE: ........ Desso GrassMaster
COST: .............. £48 million
CAPACITY: ...... 33,280
RECORD: ......... 30,854 (2014 vs Real Madrid)
OWNER: ........... Cardiff City F.C.
OPERATOR: ..... Cardiff City Stadium Ltd
FIELD SIZE: ...... 110 x 75 yards (100 x 68 meters)

| | |
| --- | --- |
| HOME JERSEY | AWAY JERSEY |



Click On Aerial Photo To View/Download Enlarged Image

Cardiff City Stadium (Cardiff) Seating Diagram
Click On Diagram Below To Enlarge View







CARDIFF CITY STADIUM WALLPAPERS (Free Download)



Wallpaper Size below is 800x600: To Download Bigger Sizes, Click On Any Button Shown Above