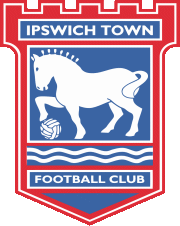 IPSWICH TOWN F.C.
Founded: 1878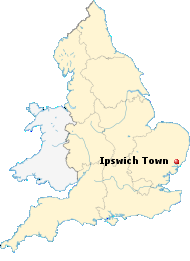 CLICK ON THE MAP TO
VIEW ENLARGED MAP
IPSWICH TOWN F.C. (Football Club)
Included Info: Brief History, Club/Stadium Info, Team Jersey & Much More...



BRIEF HISTORY of IPSWICH TOWN FOOTBALL CLUB (reproduced from 'Wikipedia' pages)



The club was founded as an amateur side in 1878 and were known as Ipswich A.F.C. until 1888 when they merged with Ipswich Rugby Club to form Ipswich Town Football Club. They joined the Southern Amateur League in 1907 and, with results improving steadily, became champions in the 1921–22 season. The club won the league a further three times, in 1929–30, 1932–33 and 1933–34, before becoming founder members of the Eastern Counties Football League at the end of the 1934–35 season. A year later, the club turned professional and joined the Southern League, which they won in its first season and finished third in the next. Ipswich were elected to The Football League on 30 May 1938, and played in Division Three (South) until the end of the 1953–54 season, when they won the title and promotion to Division Two. The club were immediately relegated back to Division Three (South) the following year at the end of a poor season. The club won the Division Three (South) title again in 1956–57, and returned to the higher division. This time, Ipswich established themselves in Division Two, and as the division champions, won promotion to the top level of English football, Division One, in 1960–61.

In the top flight for the first time, Ipswich became Champions of the Football League at the first attempt in 1961–62. As English league champions, they qualified for the 1962–63 European Cup, defeating Maltese side Floriana 14–1 on aggregate before losing to Milan. Two years after winning the league title, Ipswich slipped down to the Second Division in 1964, conceding 121 league goals in 42 games. The club remained in the Second Division for four years until Ipswich won promotion in the 1967–68 season, winning the division by a single point ahead of Queens Park Rangers. Ipswich won two major trophies after several seasons in top flight European football. The successful period began in 1973 when the club won the Texaco Cup and finished fourth in the league, qualifying for the UEFA Cup for the first time. By the late 1970s, Robson had built a strong side with talent in every department. Ipswich regularly featured in the top five of the league and in the UEFA Cup. At their peak in 1980, they beat Manchester United 6–0 at Portman Road, a game where United goalkeeper Gary Bailey also saved three penalties. Major success came in 1978 when Ipswich beat Arsenal at Wembley Stadium to win their only FA Cup trophy, the triumph was followed by a UEFA Cup victory in 1981. The club also finished as league runners-up in 1981 and 1982.




CLUB FACTS & INFORMATION



| | | |
| --- | --- | --- |
| Official Name | -- | Ipswich Town F.C. |
| Club Nickname | -- | The Blues |
| Year Founded | -- | 1878 (138 years ago) |
| English County | -- | Suffolk |
| Current Ground | -- | Portman Road |
| Ground Location | -- | Ipswich, England |
| Club's Owner | -- | Marcus Evans |
| Managing Directors | -- | Ian Milne, Jonathan Symonds |
| Current Manager | -- | Mick McCarthy |
| Current League | -- | Championship |
| Last Season | -- | Championship, 7th place |





HOME COLORS

Blue & White

AWAY COLORS

Navy Blue, Dark Red
with Yellow Trim

INTERESTING STADIUM FACTS & INFORMATION


PORTMAN ROAD STADIUM
Portman Road, Ipswich, Suffolk, IP1-2DA, England



OPENED: ......... 1884
SURFACE: ........ Grass
COST: .............. not available
CAPACITY: ...... 30,311
RECORD: ......... 38,010 (1975 vs Leeds United)
OWNER: ........... Ipswich Borough Council
OPERATOR: ..... Ipswich Town F.C.
FIELD SIZE: ...... 112 x 82 yards (102 x 75 meters)

| | |
| --- | --- |
| HOME JERSEY | AWAY JERSEY |



Click On Aerial Photo To View/Download Enlarged Image

Portman Road (Ipswich Town) Seating Diagram
Click On Diagram Below To Enlarge View







IPSWICH TOWN STADIUM WALLPAPERS (Free Download)



Wallpaper Size below is 800x600: To Download Bigger Sizes, Click On Any Button Shown Above