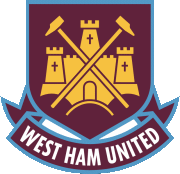 WEST HAM UNITED F.C.
Founded: 1895
Also Known As:
THAMES IRONWORKS (1886-1900)
WEST HAM UNITED (1900-)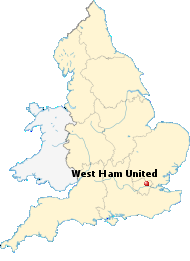 CLICK ON THE MAP TO
VIEW ENLARGED MAP
WEST HAM UNITED F.C. (Football Club)
Included Info: Brief History, Club/Stadium Info, Team Jersey & Much More...



BRIEF HISTORY of WEST HAM UNITED FOOTBALL CLUB (reproduced from 'Wikipedia' pages)



They began as Thames Ironworks in 1895 before reforming five years later as West Ham. Their first manager, Syd King, lasted 31 years - setting a trend for longevity that has endured. West Ham have only had 13 managers in their history, the fewest of any English club, and only had five between 1901 and 1989. King's side gained entrance to the Football League in 1921, and two years later played in the first FA Cup final at Wembley, losing 2-0 to Bolton. West Ham spent much of the next 30 years in the second tier of English football before promotion in 1958 under Ted Fenton started their golden age. Ron Greenwood succeeded Fenton in 1961 and began to establish West Ham as a team who believed in aesthetic football and bringing through young players, such as Hurst, Peters and Moore. They won the FA Cup in 1964, the Cup Winners Cup in 1965 and, their fans will tell you, the World Cup in 1966.

Under John Lyall, West Ham also won the FA Cup in 1975 and 1980 - the latter as a second-division club, the last such occurrence - and then, after achieving promotion back to the top flight in 1981, had their best-ever league season in 1985-86. West Ham finished third behind Liverpool and Everton but were still in the title race on the last Saturday of the season. A yo-yo period followed, with relegation from the top flight in 1989 and 1992, but West Ham have been in the Premier League for all but three seasons. Two of those came after an unexpected relegation in 2002-03, when they spent the whole season being told they were too good to go down only to do precisely that. They also suffered a painful FA Cup final defeat to Liverpool in 2006, losing on penalties after an extraordinary 3-3 draw. The remarkable signing of Carlos Tevez and Javier Mascherano later that year seemed to good to be true - and so it was, with West Ham eventually fined £5.5 million for breaching Premier League rules when signing the pair.

Tevez saved West Ham from relegation in 2007, and struggles at the lower end of the Premier League became uncomfortably frequent. Alan Curbishley resigned and was replaced by the club's first foreign manager: Gianfranco Zola; soon followed by the second in Avram Grant who oversaw their eventual relegation in 2010-11 after a poor season. Choosing former Bolton boss Sam Allardyce, West Ham bounced right back as they won the Championship play-off to seal promotion at the first attempt. The Hammers' production of young players - primarily under Tony Carr, who has been at the club since 1973 - has led to the club being called 'The Academy'. The roll call includes Moore, Hurst, Peters, Sir Trevor Brooking, Rio Ferdinand, Frank Lampard, Joe Cole, Michael Carrick and Glen Johnson. It's a key element of a club who have always been a compelling mix of purity and anarchy, imbued with an edgy East End glamour. As a football club, West Ham are undeniably unique.




CLUB FACTS & INFORMATION



Official Name

--

West Ham United F.C.
Club Nickname

--

The Hammers
Year Founded

--

1895 (121 years ago)
English County

--

Greater London
Current Ground

--

The Boleyn Ground
Ground Location

--

East London, England
Upton Park (urban area)
(London borough of Newham)
Club's Owners

--

David Sullivan (51.1%)
David Gold (35.1%)
CB Holding Ltd. (13.8%)
Club Chairmen

--

David Sullivan, David Gold
Current Manager

--

Slaven Bilic
Current League

--

Premier League
Last Season

--

Premier League, 7th place





HOME COLORS

Claret & Sky Blue

AWAY COLORS

Sky Blue w/Claret Trim

INTERESTING STADIUM FACTS & INFORMATION


BOLEYN GROUND aka UPTON PARK
Green St, Upton Park, London, E13-9AZ, England



OPENED: ......... 1904
SURFACE: ........ Grass
COST: .............. not available
CAPACITY: ...... 35,016
RECORD: ......... 42,322 (1970 vs Tottenham Hotspur)
OWNER: ........... West Ham United F.C.
OPERATOR: ..... West Ham United F.C.
FIELD SIZE: ...... 110 x 70 yards (100 x 64 meters)

| | |
| --- | --- |
| HOME JERSEY | AWAY JERSEY |



Click On Aerial Photo To View/Download Enlarged Image

Upton Park (West Ham) Seating Diagram
Click On Diagram Below To Enlarge View







WEST HAM UNITED STADIUM WALLPAPERS (Free Download)



Wallpaper Size below is 800x600: To Download Bigger Sizes, Click On Any Button Shown Above