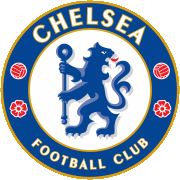 CHELSEA F.C.
Founded: 1905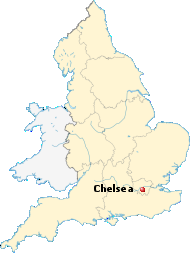 CLICK ON THE MAP TO
VIEW ENLARGED MAP
CHELSEA F.C. (Football Club)
Included Info: Brief History, Club/Stadium Info, Team Jersey & Much More...



BRIEF HISTORY of CHELSEA FOOTBALL CLUB (reproduced from 'Wikipedia' pages)



In 1904, Gus Mears acquired the Stamford Bridge athletics stadium with the aim of turning it into a football ground. An offer to lease it to nearby Fulham was turned down, so Mears opted to found his own club to use the stadium. As there was already a team named Fulham in the borough, the name of the adjacent borough of Chelsea was chosen for the new club. Chelsea were founded on 10 March 1905 at The Rising Sun pub, opposite the present-day main entrance to the ground on Fulham Road, and were elected to the Football League shortly afterwards. The club won promotion to the First Division in their second season, and yo-yoed between the First and Second Divisions in their early years. They reached the 1915 FA Cup Final, where they lost to Sheffield United at Old Trafford, and finished 3rd in the First Division in 1920, the club's best league campaign to that point. Success continued to elude the club in the inter-war years.

Chelsea had their first major success in 1955, winning the league championship, and won various cup competitions during the 1960s, 1970s, 1990s and 2000s. The club have enjoyed their greatest period of success in the past two decades, winning 15 major trophies since 1997. Domestically, Chelsea have won four league titles, seven FA Cups, four League Cups and four FA Community Shields, while in continental competitions they have won two UEFA Cup Winners' Cups, one UEFA Super Cup, one UEFA Europa League and one UEFA Champions League. Chelsea are the only London club to win the UEFA Champions League, and one of four clubs, and the only British club, to have won all three main UEFA club competitions. Chelsea's regular kit colours are royal blue shirts and shorts with white socks. The club's crest has been changed several times in attempts to re-brand the club and modernise its image. The current crest, featuring a ceremonial lion rampant regardant holding a staff, is a modification f the one introduced in the early 1950s.[7] The club have sustained the fifth highest average all-time attendance in English football. Their average home gate for the 2012–13 season was 41,462, the sixth highest in the Premier League. Since July 2003, Chelsea have been owned by Russian billionaire Roman Abramovich. In April 2013 they were ranked by Forbes Magazine as the seventh most valuable football club in the world, at £588 million ($901 million), an increase of 18% from the previous year.




CLUB FACTS & INFORMATION



Official Name

--

Chelsea F.C.
Club Nickname

--

The Blues
Year Founded

--

1905 (111 years ago)
English County

--

Greater London (city)
Current Ground

--

Stamford Bridge
Ground Location

--

London, England
Town of Fulham (London Inner-district)
(London Boro of Hammersmith/Fulham)
Club's Owner

--

Roman Abramovich
Club Chairman

--

Bruce Buck
Current Manager

--

Antonio Conte
Current League

--

Premier League
Last Season

--

Premier League, 10th place





HOME COLORS

Blue with
Red/White Trim

AWAY COLORS

White with
Red/Blue Trim

INTERESTING STADIUM FACTS & INFORMATION


STAMFORD BRIDGE
Fulham Road, London, SW6-1HS England



OPENED: ......... April 28, 1877
SURFACE: ........ Grass
RENOVATED: ... £90,000 (1909)
CAPACITY: ...... 41,631
RECORD: ......... 82,905 (1935 vs Arsenal)
OWNER: ........... Chelsea Pitch Owners plc
OPERATOR: ..... Chelsea F.C.
FIELD SIZE: ...... 113 x 73 yards (103 x 67 meters)

| | |
| --- | --- |
| HOME JERSEY | AWAY JERSEY |



Click On Aerial Photo To View/Download Enlarged Image

Stamford Bridge (Chelsea) Seating Diagram
Click On Diagram Below To Enlarge View







CHELSEA STADIUM WALLPAPERS (Free Download)



Wallpaper Size below is 800x600: To Download Bigger Sizes, Click On Any Button Shown Above