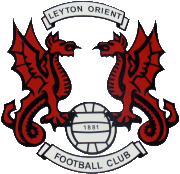 LEYTON ORIENT F.C.
Founded: 1881
Also Known As:
EAGLE C.C. (1886-88)
ORIENT (1888-98)
CLAPTON ORIENT (1898-1946)
LEYTON ORIENT (1946-66)
ORIENT (1966-87)
LEYTON ORIENT (1987-)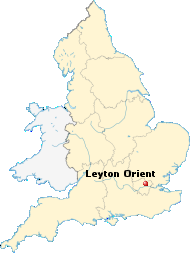 CLICK ON THE MAP TO
VIEW ENLARGED MAP
LEYTON ORIENT F.C. (Football Club)
Included Info: Brief History, Club/Stadium Info, Team Jersey & Much More...



BRIEF HISTORY of LEYTON ORIENT FOOTBALL CLUB (reproduced from 'Wikipedia' pages)



Leyton Orient was originally formed by members of the Glyn Cricket Club in 1881, many of whom were former students of Homerton College. The team has had several name changes since, first as Eagle Cricket Club in 1886 then as Orient Football Club in 1888. The O's are the second-oldest league club in London behind Fulham and are the 24th oldest club currently playing in the Football League. The club's name was changed again to Clapton Orient in 1898 to represent the area of London in which they played, though there was another team called Clapton F.C. The name Leyton Orient was adopted following the conclusion of the Second World War. The club had moved to Leyton in 1937, though again there was another team called Leyton F.C. A further rename back to simply Orient took place in 1966 after the Borough of Leyton (in Essex) was absorbed into the London Borough of Waltham Forest. The club finally reverted to "Leyton Orient" in 1987, shortly after Tony Wood took over as chairman and at a time when a supporters' campaign was taking place in the Leyton Orientear fanzine to reinstate the Leyton part of the club's name.

Leyton Orient have spent one season in the top flight of English football, in 1962–63. In 1978, Orient reached the semi-finals of the FA Cup for the only time in their history, under the management of Jimmy Bloomfield, but were beaten 3–0 by Arsenal. Between October 1993 and September 1995, Orient did not win a single away game in the league, leaving them bottom of Division Two in 1994–95. They reached the Johnstone's Paint Southern Area Final in 2012–13, but were beaten 3–2 on aggregate by Southend United, missing out on a chance to go to Wembley. Leyton Orient's home ground Brisbane Road is officially known as the Matchroom Stadium after former club chairman Barry Hearn's sports promotion company. Hearn became chairman in 1995 after the club was put on sale for £5 by then-chairman Tony Wood whose coffee-growing business in Rwanda had been destroyed in the country's civil war. The period of the club's near-closure was covered by the television documentary Orient: Club for a Fiver (made by Open Media for Channel 4). In June 2014, Hearn sold the club to Italian businessman Francesco Becchetti.




CLUB FACTS & INFORMATION



Official Name

--

Leyton Orient F.C.
Club Nickname

--

The O's
Year Founded

--

1881 (135 years ago)
English County

--

Greater London
Current Ground

--

Brisbane Road
Ground Location

--

London, England
Leyton, district of East London
(Borough of Waltham Forest)
Club's Owner

--

Francesco Becchetti
Club Chairman

--

Francesco Becchetti
Current Manager

--

Andy Hessenthaler
Current League

--

League Two
Last Season

--

League Two, 8th place





HOME COLORS

Red w/White Trim

AWAY COLORS

Light Blue w/White Trim

INTERESTING STADIUM FACTS & INFORMATION


MATCHROOM STADIUM
aka BRISBANE ROAD
Brisbane Road, Leyton, London, E10-5NF, England



OPENED: ......... 1937
SURFACE: ........ Grass
COST: .............. not available
CAPACITY: ...... 9,271
RECORD: ......... 34,345 (1964 vs West Ham United)
OWNER: ........... Leyton Orient F.C.
OPERATOR: ..... Leyton Orient F.C.
FIELD SIZE: ...... 115 x 80 yards (105 x 73 meters)

| | |
| --- | --- |
| HOME JERSEY | AWAY JERSEY |



Click On Aerial Photo To View/Download Enlarged Image

Brisbane Road (Leyton Orient) Seating Diagram
Click On Diagram Below To Enlarge View







LEYTON ORIENT STADIUM WALLPAPERS (Free Download)



Wallpaper Size below is 800x600: To Download Bigger Sizes, Click On Any Button Shown Above