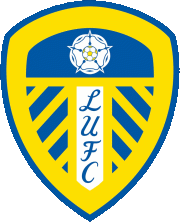 LEEDS UNITED A.F.C.
Founded: 1919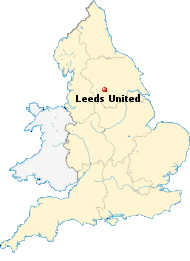 CLICK ON THE MAP TO
VIEW ENLARGED MAP
LEEDS UNITED A.F.C. (Association Football Club)
Included Info: Brief History, Club/Stadium Info, Team Jersey & Much More...



BRIEF HISTORY of LEEDS UNITED FOOTBALL CLUB (reproduced from 'Wikipedia' pages)



Leeds United's predecessor team, Leeds City FC, was formed in 1904, and were elected League members in 1905. Leeds City were forcibly disbanded and forced to sell off all their players by The Football League in 1919 in response to allegations of illegal payments to players during the First World War. In 1919, Leeds United was formed and they received an invitation to enter the Midland League. Leeds United were voted into the Midland League on 31 October 1919, taking the place vacated by Leeds City Reserves. Following Leeds City's disbanding, Yorkshire Amateurs bought their stadium Elland Road. Yorkshire Amateurs offered to make way for the new team under the management of former player Dick Ray. The chairman of Huddersfield Town, Hilton Crowther loaned Leeds United £35,000, to be repaid when Leeds United won promotion to Division One. He brought in Barnsley's manager Arthur Fairclough and on 26 February 1920, Dick Ray stepped down to become Fairclough's assistant. On 31 May 1920, Leeds United were elected to the Football League. Over the following few years, they consolidated their position in the Second Division and in 1924 won the title and with it promotion to the First Division. They failed to establish themselves and were relegated in 1926–27. After being relegated Fairclough resigned which paved the way for Ray to return as manager. In the years up until the start of World War II Leeds were twice relegated, both times being instantly re-promoted the following season.

In the 1946–47 season after the war, Leeds were relegated again with the worst league record in their history. Leeds remained in the Second Division until 1955–56, when they once again won promotion to the First Division. In March 1961, the club appointed former player Don Revie as manager, following the resignation of Jack Taylor. His stewardship began in adverse circumstances; the club was in financial difficulty and in 1961–62 only a win in the final game of the season saved the club from relegation to Division Three. Leeds soon won promotion to the First Division in 1963–64. In his thirteen years in charge, Revie guided Leeds to two Football League First Division titles, one FA Cup, one League Cup, two Inter-Cities Fairs Cups, one Football League Second Division title and one Charity Shield. He also guided them to three more FA Cup Finals, two more FA Cup Semi-Finals, one more Inter-Cities Fairs Cup Final and one Inter-Cities Fairs Cup Semi-Final, one European Cup Winners' Cup Final and one European Cup Semi-Final. The team also finished second in the Football League First Division five times, third once and fourth twice. In a survey of leading football writers, historians and academics by Total Sport magazine, Revie's Leeds United were voted as one of the fifty greatest football teams of all time.

Following the 1973–74 season, Revie left Leeds and Elland Road in 1974, to manage the England national team. Despite spending freely on players, Leeds United was unable to stem the tide and the club was relegated at the end of 1981–82. In October 1988, with the team 21st in the Second Division, Howard Wilkinson, helped Leeds to their promotion back to the First Division in 1989–90. Under Wilkinson Leeds finished 4th in 1990–91 and in 1991–92 season Leeds won the title. However, the 1992–93 season saw Leeds exiting the Champions League in the early stages, and eventually finishing 17th in the League, narrowly avoiding relegation. Wilkinson's Leeds were unable to provide any consistent challenge for honours, and his position was not helped by a poor display in the 1996 League Cup final which Leeds lost to Aston Villa. Leeds could only finish 13th in 1995–96, and after a 4–0 home d efeat by Manchester United early in 1996–97, Wilkinson had his contract terminated. In the 2009–10 season Leeds secured the best start ever to a season by a Leeds side, and caused a major upset in the third round of the FA Cup by beating Manchester United at Old Trafford. After the impressive run in the FA Cup, Leeds' league form suffered with the team taking just 7 points from a possible 24. However, the team rallied and Leeds won their final game of the season to confirm promotion to The Championship. Leeds spent much of the season in the playoff places, but eventually finished in a respectable 7th place – just missing out on the playoffs. On 21 November 2012, Middle East-based private equity group GFH Capital finalised a deal for a protracted takeover of Leeds, gaining 100% shareholding in the club. It was also announced Ken Bates would remain as chairman until the end of the 2012–13 season and then become club president.




CLUB FACTS & INFORMATION



Official Name

--

Leeds United F.C.
Club Nickname

--

The Whites
Year Founded

--

1919 (97 years ago)
English County

--

West Yorkshire
Current Ground

--

Elland Road
Ground Location

--

Beeston, England
suburb of Leeds (city)
Club's Owner

--

Eleonora Sport Ltd
Club President

--

Massimo Cellino
Current Manager

--

Garry Monk
Current League

--

Championship
Last Season

--

Championship, 13th place





HOME COLORS

White & Royal Blue Trim

AWAY COLORS

Yellow & Royal Blue Trim

INTERESTING STADIUM FACTS & INFORMATION


ELLAND ROAD STADIUM
Elland Road, Leeds, West Yorkshire, LS11-0ES, England



OPENED: ......... 1897
SURFACE: ........ Grass
COST: .............. not available
CAPACITY: ...... 37,890
RECORD: ......... 57,892 (1967 vs Sunderland)
OWNER: ........... Leeds United A.F.C.
OPERATOR: ..... Leeds United A.F.C.
FIELD SIZE: ...... 115 x 74 yards (105 x 68 meters)

| | |
| --- | --- |
| HOME JERSEY | AWAY JERSEY |



Click On Aerial Photo To View/Download Enlarged Image

Elland Road (Leeds United) Seating Diagram
Click On Diagram Below To Enlarge View







LEEDS UNITED STADIUM WALLPAPERS (Free Download)



Wallpaper Size below is 800x600: To Download Bigger Sizes, Click On Any Button Shown Above