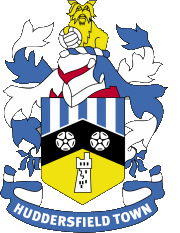 HUDDERSFIELD TOWN F.C.
Founded: 1908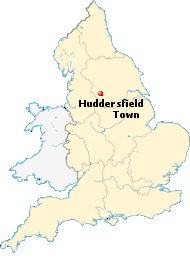 CLICK ON THE MAP TO
VIEW ENLARGED MAP
HUDDERSFIELD TOWN F.C. (Football Club)
Included Info: Brief History, Club/Stadium Info, Team Jersey & Much More...



BRIEF HISTORY of HUDDERSFIELD TOWN FOOTBALL CLUB (reproduced from 'Wikipedia' pages)



In 1908, the Huddersfield Association Football Ground Co. was formed and, with capital of £500. In 1910, just three years after being founded, Huddersfield entered the Football League for the first time. The team went on to reach the 1920 FA Cup Final and win promotion to Division One. In 1926, it became the first English team to win three successive league titles – a feat that only three other clubs have been able to match. Huddersfield Town also won the FA Cup in 1922 and have been runners-up on four other occasions. During the club's heyday, on 27 February 1932 the club achieved a record attendance of 67,037 during their FA Cup 6th round tie against Arsenal at Leeds Road. This attendance has been bettered by only 13 other clubs in the history of the Football League. After the Second World War, the club began a gradual decline, losing its First Division status in 1952. It returned to the top flight for the last time in 1970 but was relegated two seasons later and has since meandered through the lower three divisions. Before the start of the 1969/70 season, Huddersfield Town adopted the nickname "The Terriers".

In 1998, the club attracted the attention of local businessman Barry Rubery and, after protracted takeover talks, he took over the running of the club, promising significant investment as the club sought Premiership status. However, the club did not make it back to the top flight and fell two divisions. The club was sold by Rubery to David Taylor and under David Taylors ownership, slipped into administration. In the summer of 2003, the Terriers came out of administration under the new ownership of Ken Davy. At the start of the 2004–05 season, the stadium was renamed the Galpharm Stadium, to reflect the sponsorship of this local healthcare company. On 19 November 2011, following a 2–1 victory over Notts County, Huddersfield broke Nottingham Forest's long-standing 42-match unbeaten league record, the Terriers went 43 games unbeaten. On 28 November 2011, Huddersfield lost for the first time in 44 games to Charlton Athletic. The score was 2–0. On 26 May 2012, following a penalty shoot-out in the 2012 Football League One play-off Final victory over Sheffield United, Huddersfield were promoted to the Championship. The shoot-out was the longest contested in the current League One play-offs format. Eleven rounds took place, the final score was 8–7 to Huddersfield, with the winning goal being scored by goalkeeper Alex Smithies. During the summer of 2012, the stadium changed its name to the John Smith's Stadium, after the sponsorship rights were bought by Heineken International.




CLUB FACTS & INFORMATION



| | | |
| --- | --- | --- |
| Official Name | -- | Huddersfield Town A.F.C. |
| Club Nickname | -- | The Terriers |
| Year Founded | -- | 1908 (108 years ago) |
| English County | -- | West Yorkshire |
| Current Ground | -- | John Smith's Stadium |
| Ground Location | -- | Huddersfield, England |
| Club's Owner | -- | Dean Hoyle |
| Club Chairman | -- | Dean Hoyle |
| Current Manager | -- | David Wagner |
| Current League | -- | Championship |
| Last Season | -- | Championship, 19th place |





HOME COLORS

Light Blue, White
with Black Trim

AWAY COLORS

Yellow w/Black Trim

INTERESTING STADIUM FACTS & INFORMATION


JOHN SMITH'S STADIUM
Galpharm Stadium, Huddersfield,
West Yorkshire, HD1-6PX, England



OPENED: ......... 1994
SURFACE: ........ Grass with Under-soil heating
COST: .............. £40 Million
CAPACITY: ...... 24,500
RECORD: ......... 23,678 (1997 vs Liverpool)
OWNER: ........... consortium
OPERATOR: ..... Kirklees Stadium Development Ltd
FIELD SIZE: ...... 115 x 76 yards (105 x 69 meters)

| | |
| --- | --- |
| HOME JERSEY | AWAY JERSEY |



Click On Aerial Photo To View/Download Enlarged Image

John Smith's Stadium (Huddersfield) Seating Diagram
Click On Diagram Below To Enlarge View







HUDDERSFIELD TOWN STADIUM WALLPAPERS (Free Download)



Wallpaper Size below is 800x600: To Download Bigger Sizes, Click On Any Button Shown Above