STORE #1 "Best Choice"




Simple, Just Add CD's To Shopping Cart
& Use PayPal's Secure Checkout Process!

This Music Store has FOUR different stores all attached to my
main PayPal shopping cart, including: Millennium Music CD's,
College Fight Music, Oldies Music and Eighties Music Stores!
STORE #2 "Merchant Store"





My Full Merchant Account Store
You Use Any of the 4 Major CC's!
#3 "Check, MO, Cash & Paypal"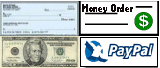 Use This Choice If Don't Trust
Online Servers and/or NO CC's!