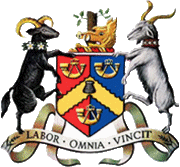 BRADFORD PARK AVENUE A.F.C.
Founded: 1907
Also Known As:
BRADFORD (1907-)
aka BRADFORD PARK AVENUE
or BRADFORD (PARK AVENUE)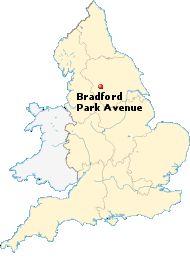 CLICK ON THE MAP TO
VIEW ENLARGED MAP
BRADFORD PARK AVENUE A.F.C.
(Association Football Club)
Included Info: Brief History, Club/Stadium Info, Team Jersey & Much More...



BRIEF HISTORY of BRADFORD PARK AVENUE FOOTBALL CLUB (reproduced from 'Wikipedia' pages)



Bradford FC began playing association football in 1895, alternating home Saturdays at Park Avenue with the Northern Union. The club entered the Yorkshire League in 1897–98, finishing next to last, and was banished to Birch Lane the following season (where it fared little better). Bradford's first football club was closed down at the end of the 1898–99 season due to mounting losses. In 1908, Bradford FC was elected to the Second Division of the Football League. The club was promoted to the First Division in 1914 after finishing second, and achieved its highest-ever league position (ninth) at the end of the 1914–15 season. After the First World War the club began a steady decline, relegated to the Second Division in 1921 and to the Third Division North in 1922. In 1928, the club were the Division 3N champions and were promoted back to the Second Division. They were relegated again in 1950, and placed in the Fourth Division after a 1958 reorganisation. Although the club won promotion to the Third Division in 1961, they were relegated back to the Fourth Division in 1963.

After several difficult seasons, in 1970 they were replaced in the Football League by Cambridge United. The club joined the Northern Premier League, selling Park Avenue in 1973 and sharing facilities with Bradford City. Bradford Park Avenue went into liquidation on 3 May 1974 with debts of £57,652 ($95,517), and immediately re-formed as a Sunday league club playing in the league club's former colours. Although the stands and other buildings at Park Avenue were demolished in 1980, the playing field and terraces remained. The stadium was renovated for amateur football during the mid-1980s, and the Sunday League club played a full season there in 1987–88. However, it was forced to move out at the end of the season to accommodate an indoor cricket school on part of the pitch. A new club was formed to return Bradford Park Avenue to Saturday football for the 1988–89 season, joining the West Riding County Amateur Football League and then the Central Midlands League. At the beginning of the 2004–05 season they were founding members of the Conference North, although they were relegated to the Northern Premier League at the end of the season (after finishing seventh) and to Northern Division North the following season. The club returned to the Northern Premier League as champions in the 2007–08 season.




CLUB FACTS & INFORMATION



| | | |
| --- | --- | --- |
| Official Name | -- | Bradford Park Avenue A.F.C. |
| Club Nickname | -- | The Avenue, BPA |
| Year Founded | -- | 1907 (109 years ago) |
| English County | -- | West Yorkshire |
| Current Ground | -- | Horsfall Stadium |
| Ground Location | -- | Bradford, London |
| Club's Owner | -- | Robert Blackburn |
| Club Chairman | -- | Dr. John Dean |
| Current Manager | -- | Alex Meechan |
| Current League | -- | National League North |
| Last Season | -- | National League North, 14th place |





HOME COLORS

White w/Green Trim

AWAY COLORS

Navy Blue & Reddish-Pink

INTERESTING STADIUM FACTS & INFORMATION


HORSFALL STADIUM
Cemetery Road, Bradford
West Yorkshire, BD6-2NG England



OPENED: ......... 1931
SURFACE: ........ Grass
COST: .............. not available
CAPACITY: ...... 3,500
RECORD: ......... 4,978 (1966 vs Port Vale)
OWNER: ........... Bradford Council
TENANT: .......... Bradford Park Avenue FC
FIELD SIZE: ...... unknown

| | |
| --- | --- |
| HOME JERSEY | AWAY JERSEY |



Click On Aerial Photo To View/Download Enlarged Image

Horsfall Stadium (Bradford P.A.) Seating Diagram
Click On Diagram Below To Enlarge View





BRADFORD PARK AVE. STADIUM WALLPAPERS (Free Download)



Wallpaper Size below is 800x600: To Download Bigger Sizes, Click On Any Button Shown Above