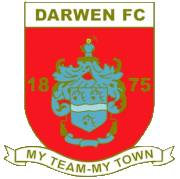 DARWEN F.C.
Founded: 1886
Dissolved: 2009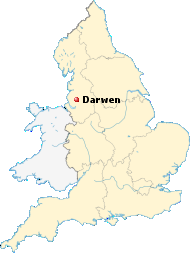 CLICK ON THE MAP TO
VIEW ENLARGED MAP
DARWEN F.C. (Football Club)
Included Info: Brief History, Club/Stadium Info, Team Jersey & Much More...



BRIEF HISTORY of DARWEN FOOTBALL CLUB (reproduced from 'Wikipedia' pages)



Darwen F.C. were a football club from Darwen in Lancashire, north west England. The team, formed in 1870, was an early pioneer of professional football in Northern England. In October 1878, at their Barley Bank ground, Darwen played a representative team from Blackburn under floodlights. This is believed to be one of the first, if not the very first instance of their use in football. Darwen was the first club from the north of England to achieve any success in the FA Cup, reaching the quarter finals in 1879. Two years later, in 1881, Darwen went one better and reached the semi-finals of the FA Cup. In 1891 Darwen were elected to the Football League as it was expanded to 14 teams. In March 1892 they lost 12-0 to West Bromwich Albion, and this winning margin has never been surpassed in the League's top division. Darwen finished bottom of the League in their first season, and were relegated to become founder members of the Second Division. Ironically, 14th (out of 14) in 1891–92 remains their highest ever placing in the Football League. In 1893 they finished in third place and were promoted back to the First Division via the test matches, but they were relegated again in 1894. They remained in the Second Division until 1899, when they did not apply for re-election. They had spent eight seasons in the League, two of them in the top flight. During their last season as a League club, in 1898–99, Darwen suffered 18 consecutive defeats. This remains a record, although Sunderland narrowly avoided equalling it in 2003. They also set a record for the most goals conceded by a team in any Football League season, with 141.

After leaving the Football League the club joined the Lancashire League. It was also in 1899 that they moved from Barley Bank to the Anchor Ground. In 1902 they won the Lancashire League title, remaining unbeaten all season. Two years later they joined the Lancashire Combination, and they played in this league for the following 70 years. Darwen won 5 trophies in the three years from 1930 to 1933, including the Lancashire Combination title (1931 and 1932). In the 1931–32 season FA Cup, they beat Football League side Chester in front of a 10,000 crowd at the Anchor Ground and were rewarded with an away draw at reigning league champions Arsenal FC in the 3rd round. Darwen lost by 11 (eleven) goals to 1 but Arsenal were so impressed with Lancashire sportsmanship that they presented their visitors with a set of their own red strip, which Darwen have worn more or less ever since they were champions of the Combination four times, and following the fourth title in 1976 they joined the more prestigious Cheshire County League. Six years later, in 1982, they became founder members of the North West Counties League. They won the League Cup in its inaugural season. They spent three seasons in the Second Division in the mid-1980s, and were relegated again in 1998 on account of ground regulations. They have remained in the Second Division ever since. They last played in the First Division of the North West Counties Football League in 2008–09, when the club was dissolved. A successor team, A.F.C. Darwen, was founded soon after. Darwen played their home games at the Anchor Ground.




CLUB FACTS & INFORMATION



Official Name

--

Darwen F.C.
Club Nickname

--

The Salmoners
Year Founded

--

1870
Year Dissolved

--

2009
English County

--

Lancashire
Current Ground

--

The Anchor Ground
Ground Location

--

Darwen, England
Current League

--

None
Last Season

--

North West Counties League
Division Two, 13th place





HOME COLORS

All Red

AWAY COLORS

All Navy Blue

INTERESTING STADIUM FACTS & INFORMATION


THE ANCHOR GROUND
Anchor Road, Darwen, Lancashire, BB3-0BB England



OPENED: ......... July 22, 2006
SURFACE: ........ Desso GrassMaster
COST: .............. $1.7 Million
CAPACITY: ...... 60,338
RECORD: ......... 60,161 (2007 vs Manchester United)
OWNER: ........... Arsenal Holding plc
OPERATOR: ..... Arsenal F.C.
FIELD SIZE: ...... 105 x 68 meters

| | |
| --- | --- |
| HOME JERSEY | AWAY JERSEY |



Click On Aerial Photo To View/Download Enlarged Image

Anchor Ground (Darwen) Seating Diagram
Click On Diagram Below To Enlarge View







DARWEN STADIUM WALLPAPERS (Free Download)



Wallpaper Size below is 800x600: To Download Bigger Sizes, Click On Any Button Shown Above